Hampshire Search and Rescue History and Development
Hampshire Search and Rescue (HANTSAR) is a lowland search and rescue (SAR) team based in Hampshire, United Kingdom which primarily provides a search and rescue capability to Hampshire and Isle of Wight Constabulary for high risk and vulnerable people who go missing. HANTSAR also supports the Hampshire Resilience Forum to provide resources to civil emergencies in the county. HANTSAR is a registered charity and in common with most United Kingdom search and rescue (UK SAR) teams, HANTSAR members are all volunteers. HANTSAR is a full member team of the Association of Lowland Search and Rescue (ALSAR), now commonly known as Lowland Rescue (LR).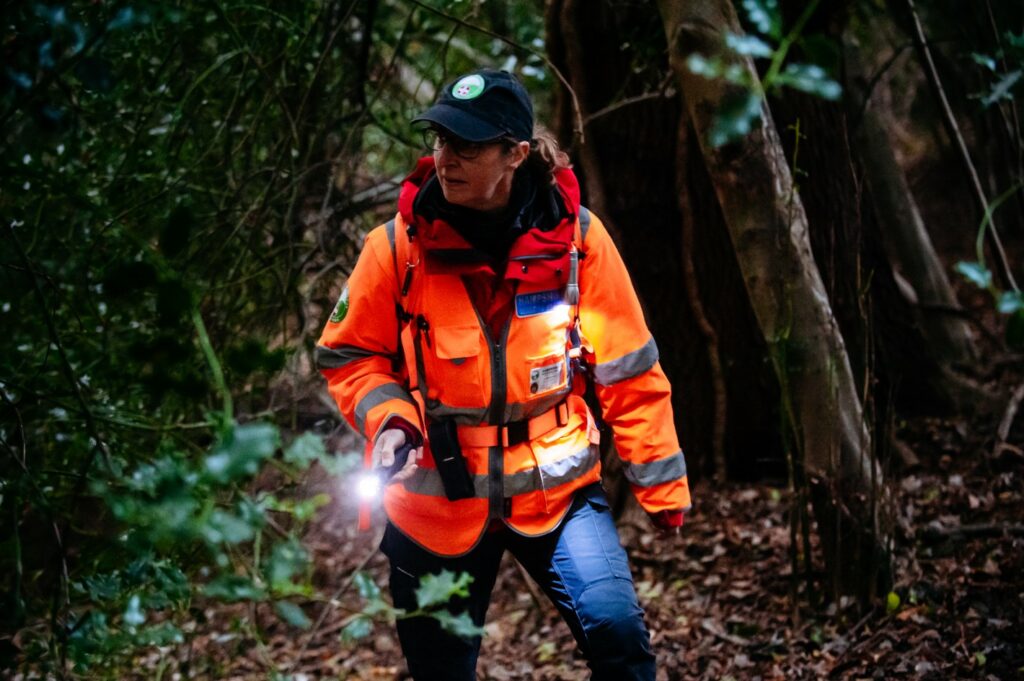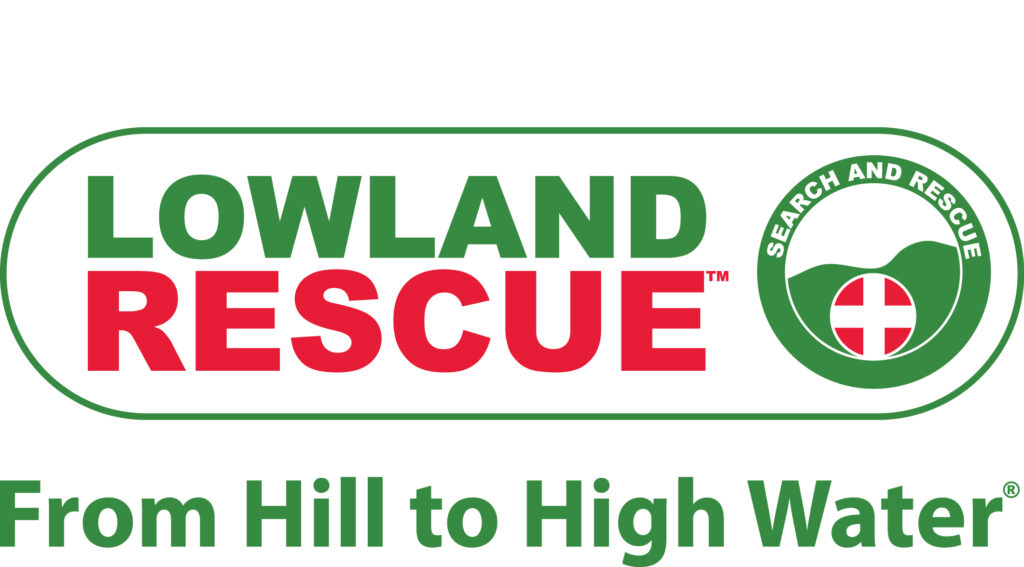 HANTSAR volunteers are on call 24 hours a day, every day of the year and can operate anywhere on the land and in the inland waterways of the county.
Origins
Setting up a SAR team in Hampshire was the idea of Catherine Crouch, a retained firefighter based at Lyndhurst, with assistance from Sergeant Colin White of Hampshire Constabulary. The first meeting in 2002 was very much an 'in principle' meeting and there were some concerns in regard to the risks involved. Although the team undertook training and took part in some searches in 2002, both in Hampshire and in other counties, the organisation officially came into being on 27th February 2003 when the constitution was adopted. Catherine Crouch was the first Chair and meetings were held at Lyndhurst Fire Station.
Using the ALSAR framework (ALSAR itself was then relatively new), the team worked with the already established SAR team in Berkshire (SEBEV, now known as BLSAR). This helped develop the initial training and assessment, and eventually the set up and licence for HANTSAR. At the time, Hampshire Constabulary's full time search unit had only recently been formed and so they and HANTSAR grew together.
The second Chair (who took the position later in 2003) was Ian Bennett.
Subsequent Chairs have been:
Simon Jeffs 2008 – 2015
Tony Privett 2015 – 2018
Phil Harvey 2018 – to date
The first "official" training session for the team was in February 2003 and our first recorded search was in May 2003. By then, team meetings were being held in the control building at HMS Daedalus in Lee-on-the-Solent, where the police air support unit was based. Later the team was given use of the training centre at the Ford factory at Eastleigh, and when that closed, it used Eastleigh College until the COVID-19 pandemic.
Sergeant Andy Turner, also of Hampshire Constabulary, became the team's main point of contact in the police and helped to get the team known within the police.
The organisation has grown since its formation, from around 24 operational members in 2004 to nearly 100 in 2023.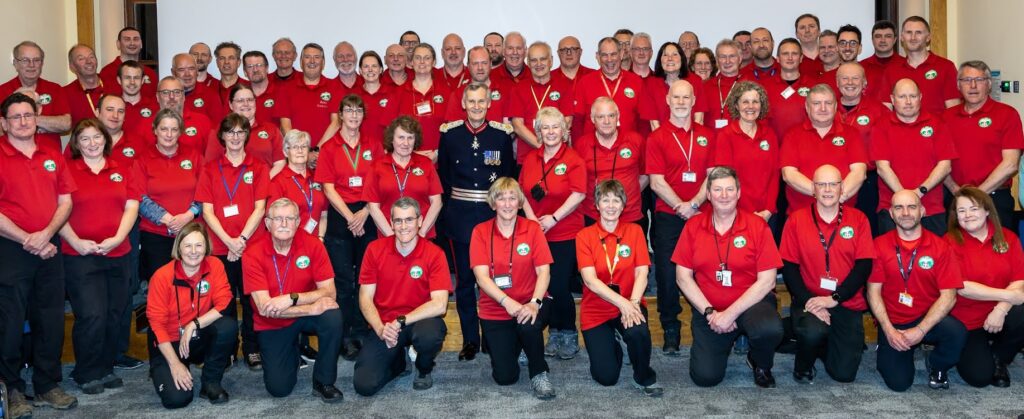 Logo
The team's first logo was very much a Hampshire one, including in its design the Hampshire Rose. In May 2011, the newly designed ALSAR logo was adopted.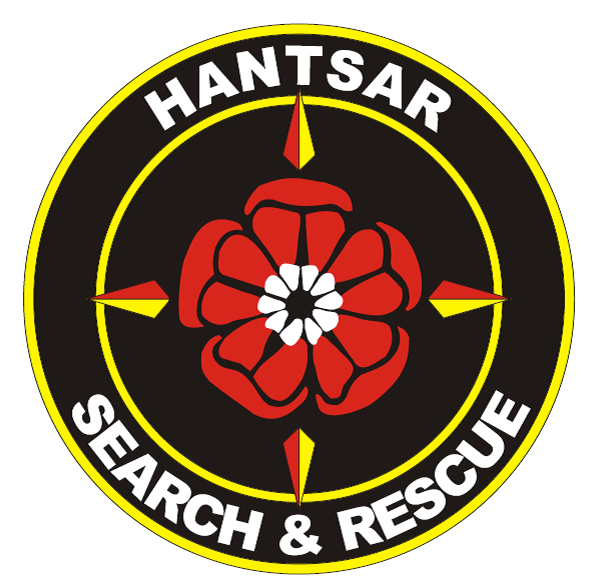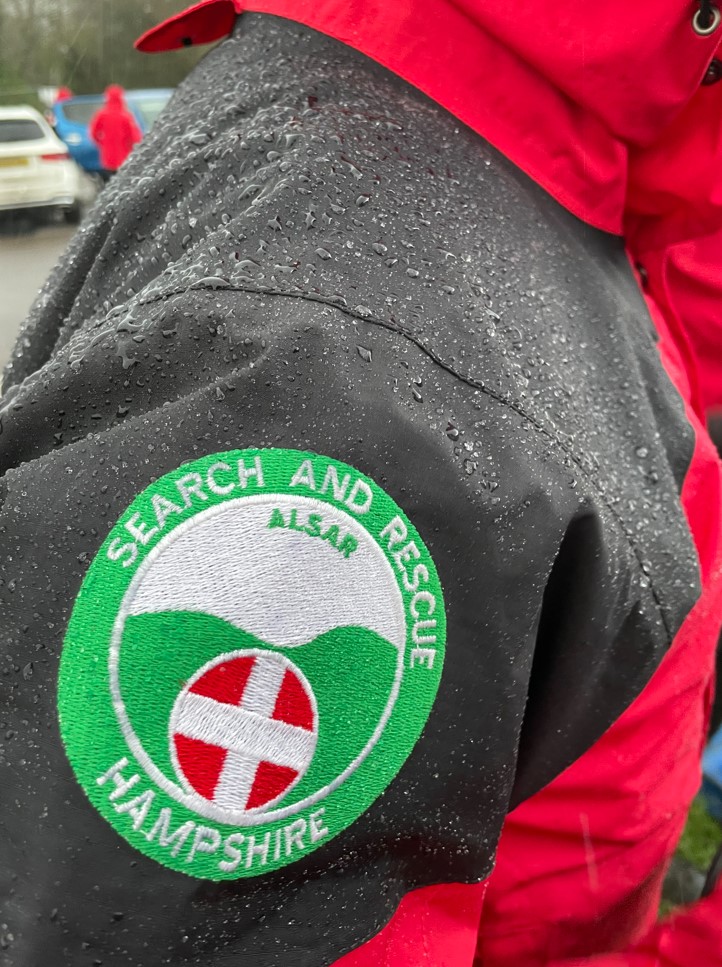 Callouts and other support given to the community
HANTSAR is called out by the police when needed for a missing person search. Sometimes the team is asked to assist Hampshire Fire and Rescue Service with drone surveillance of fires.
In addition to this the organisation can be utilised by the Local Resilience Forum (LRF) to provide other types of assistance. HANTSAR can also be called upon by sister Lowland Rescue teams to assist in other counties.
Following a search of Parkhurst Forest in 2008, where we were seen to be working, a small SAR team was set up on the Isle of Wight under HANTSAR's stewardship. A training session took place in early 2009 on the island with nine or ten of our members going over to run the course. This eventually evolved, in 2011, into Isle of Wight Search and Rescue (WIGHTSAR).
HANTSAR was also asked by the police to cover missing person searches in Surrey from early 2009 until Surrey Search and Rescue (SURSAR) was formed in 2011.
In 2007, the team organised a trip to the New Forest for some children from Chernobyl (born after the disaster in 1986) who were staying with our accounts auditor. Together with a search dog from Search Dogs Southern they practiced searching for objects and people on a very wet day in the Forest and were given tea afterwards by the team. Two of the HANTSAR members subsequently sponsored one of the children who is still in touch with our (now former) auditor.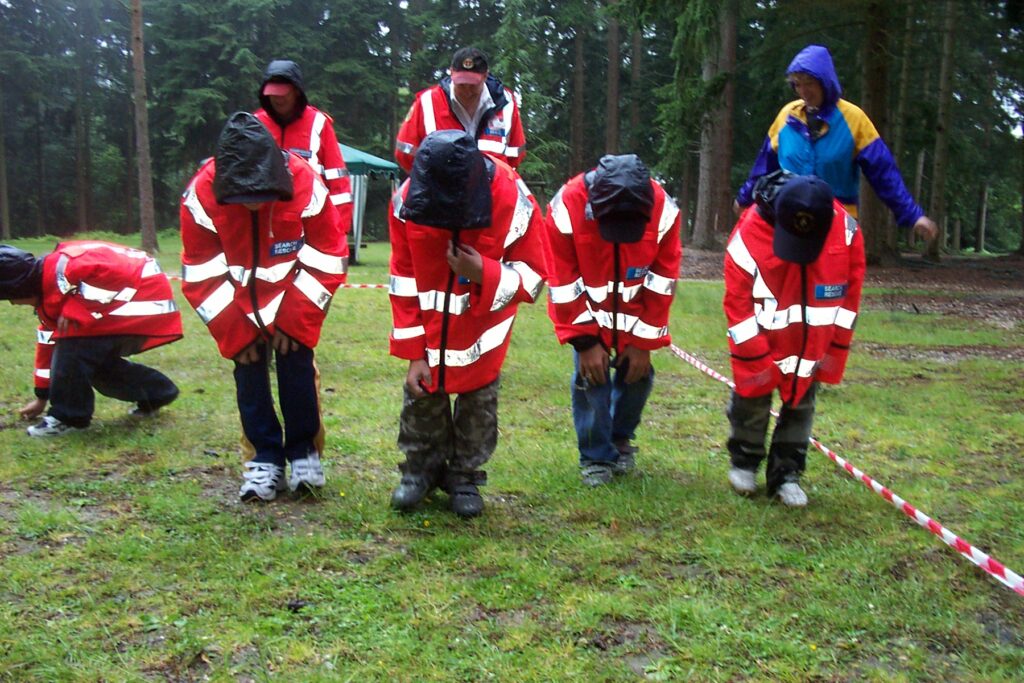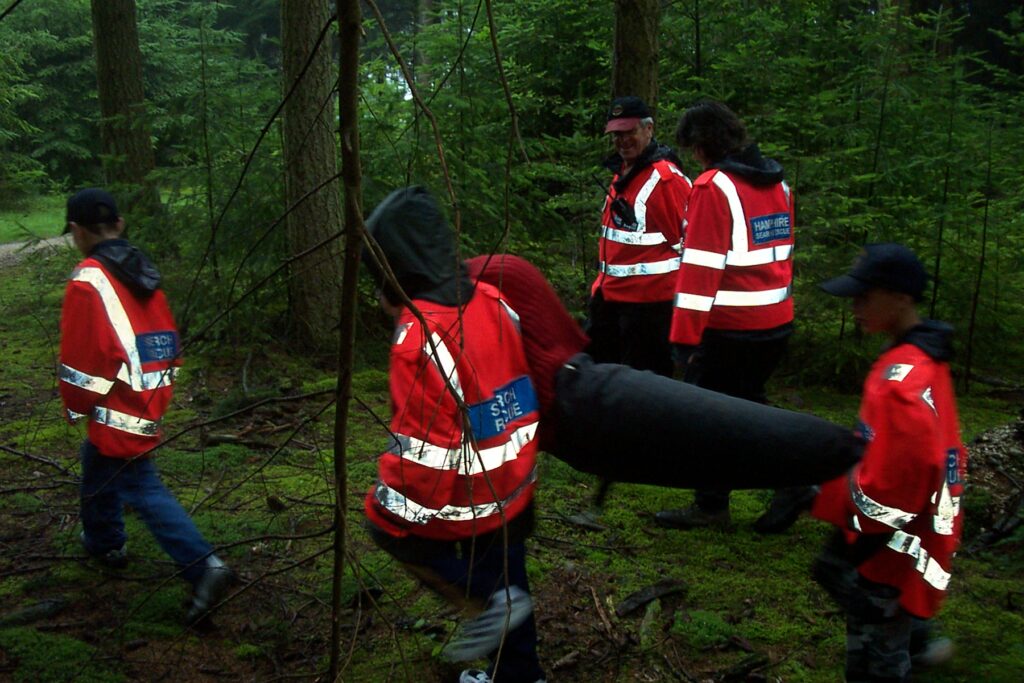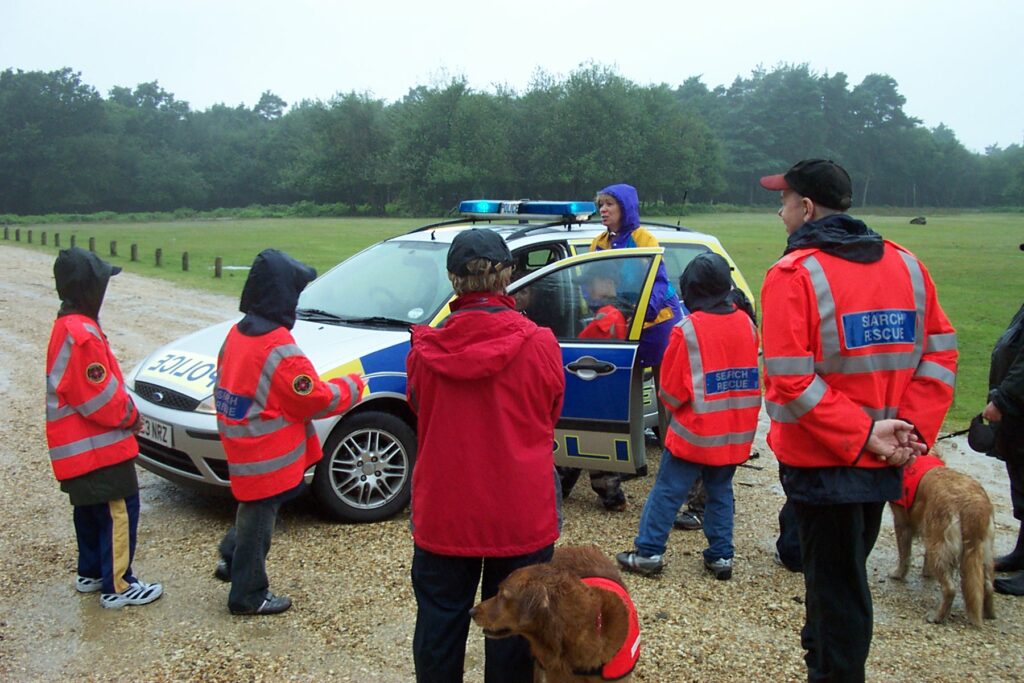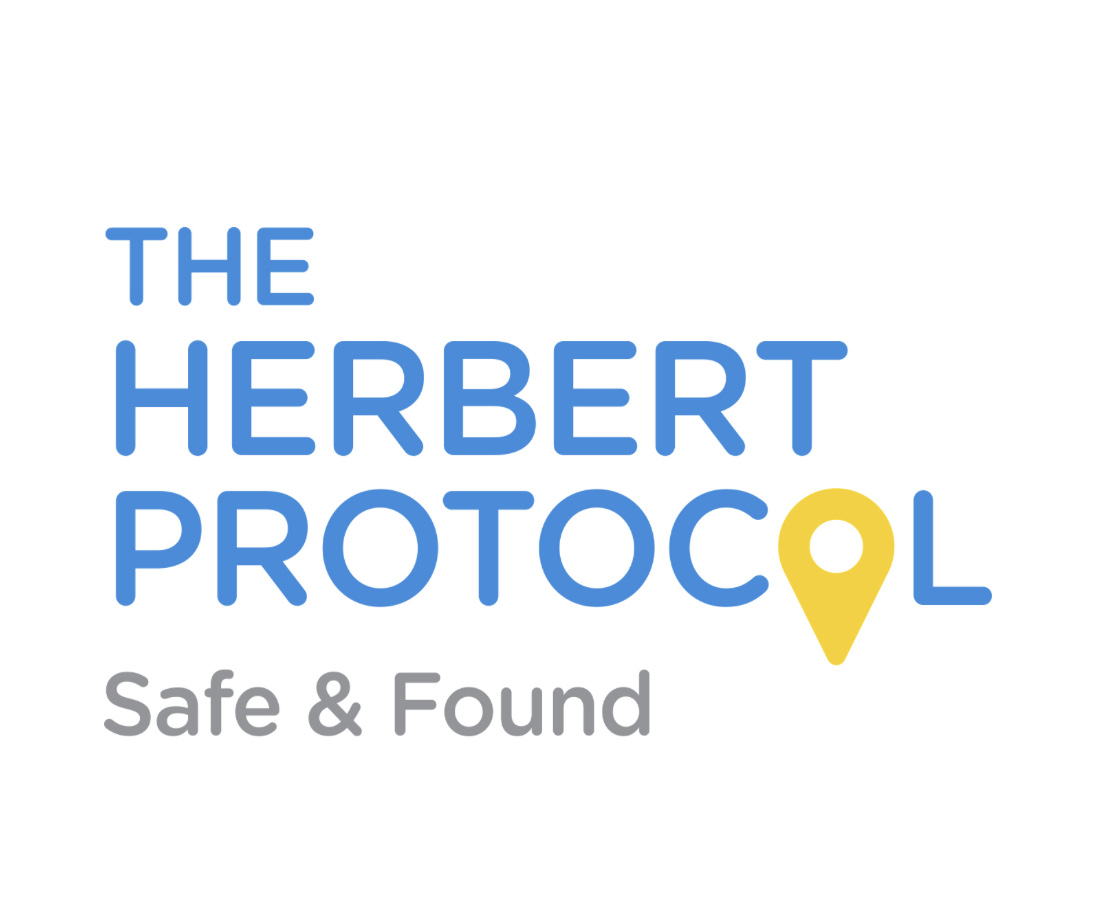 In 2018, the team supported the NHS by providing transport to critical NHS staff during heavy snow.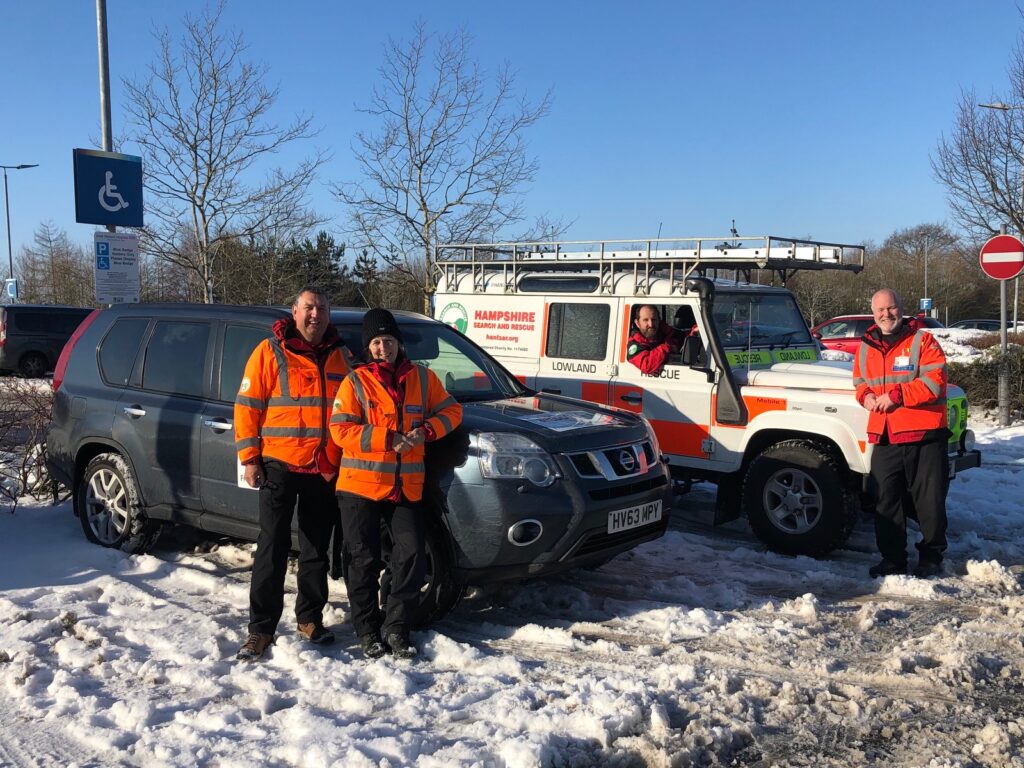 During the COVID-19 pandemic, amongst other activities, HANTSAR helped by distributing vital medical supplies to surgeries and care homes in the Portsmouth area; COVID testing lorry drivers at Portsmouth Port; and helping at various NHS vaccination centres as vaccinators and marshals. See Hampshire's emergency services praised for vital pandemic role – Emergency Services Times.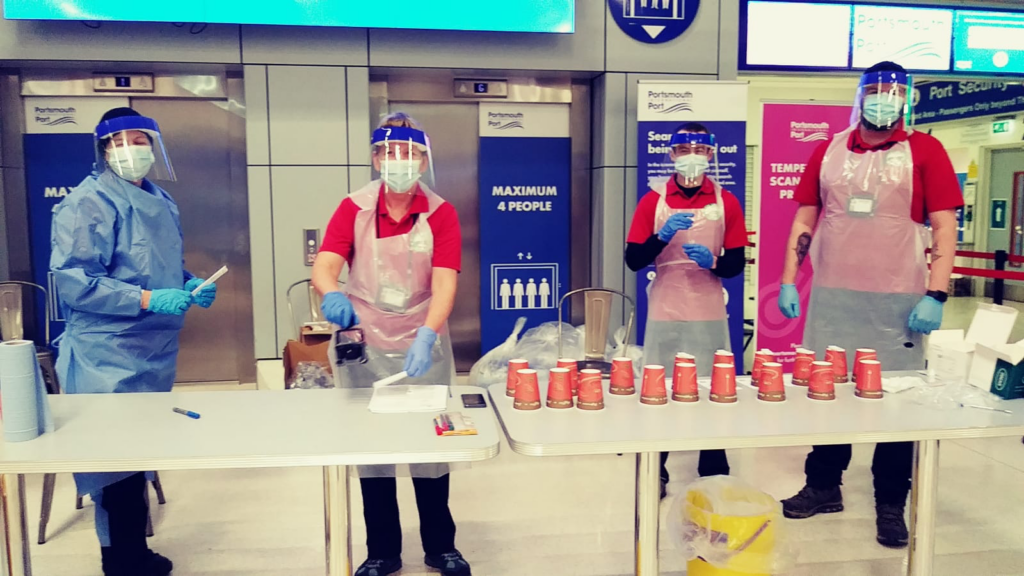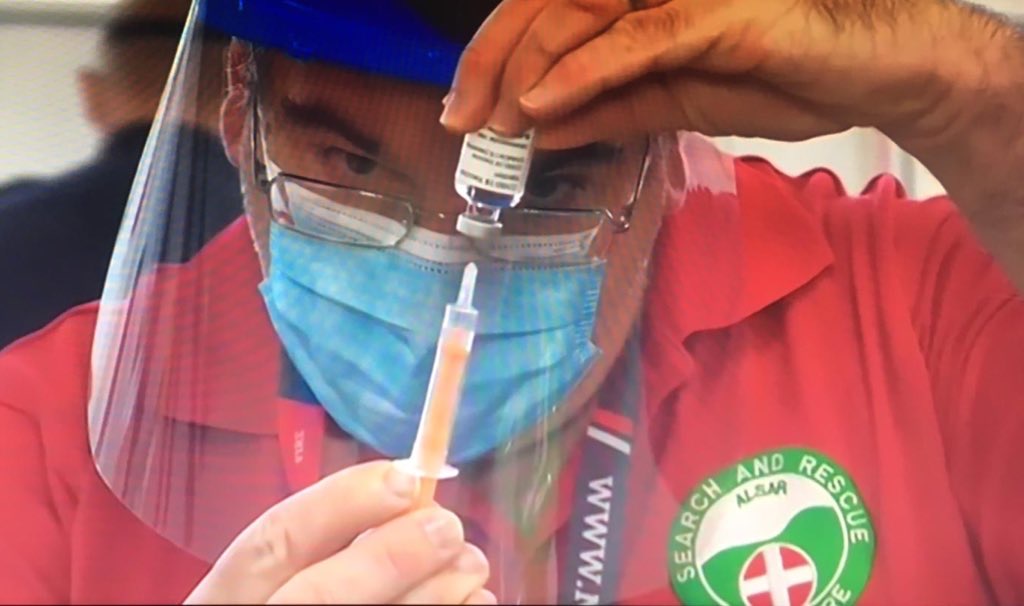 In August 2022 HANTSAR was formally tasked by the Hampshire and Isle of Wight LRF to take on the role of managing Spontaneous Volunteer Reception Centres in the event of civil emergencies.
The first of January 2023 marked the start of HANTSAR's 20th anniversary year.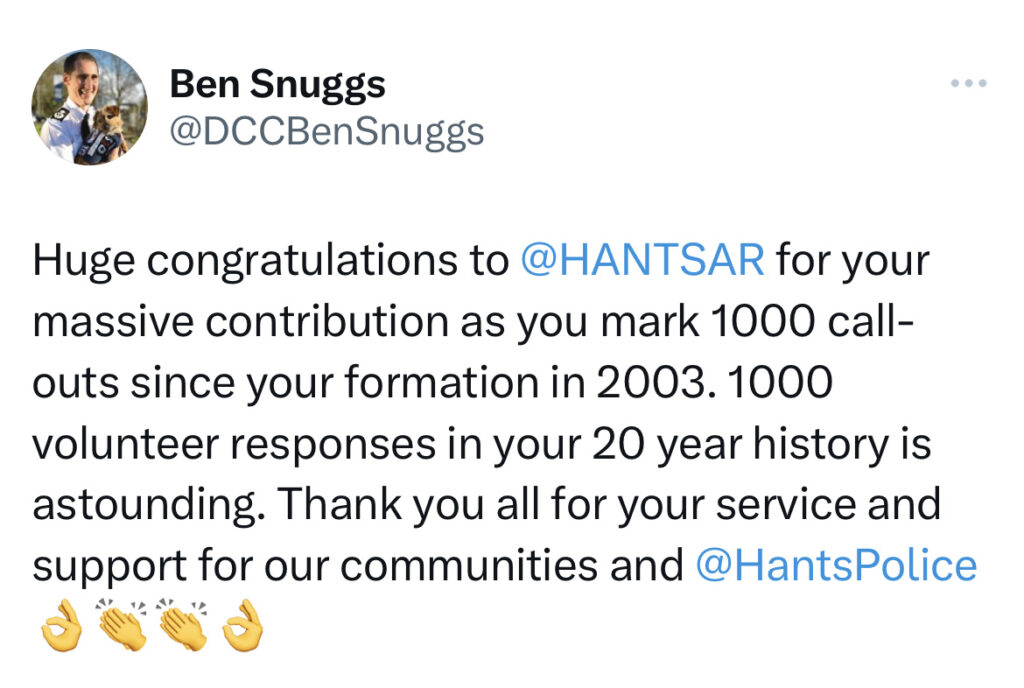 Callouts by year
| | | | | | | | | | | |
| --- | --- | --- | --- | --- | --- | --- | --- | --- | --- | --- |
| Year | 2003 | 2004 | 2005 | 2006 | 2007 | 2008 | 2009 | 2010 | 2011 | 2012 |
| Callouts | 14 | 30 | 19 | 31 | 18 | 27 | 43 | 33 | 66 | 38 |
| | | | | | | | | | | |
| Year | 2013 | 2014 | 2015 | 2016 | 2017 | 2018 | 2019 | 2020 | 2021 | 2022 |
| Callouts | 33 | 48 | 53 | 62 | 54 | 75 | 81 | 96 | 82 | 83 |
Training, equipment and specialist teams
HANTSAR members train regularly in subjects such as navigation, use of radios, search techniques, missing person behaviour, first aid, search planning and search management. Training takes place at various outdoor locations in the county and occasionally in classrooms or via online meetings. Training is conducted to Lowland Rescue national and accredited standards.
Water team
Originally set up with foot team searchers only, in 2013 a water search team was formed. By 2022 HANTSAR had a team of eight members qualified in water rescue. This High-Risk Search Team (HRST) has two powered boats and two rafts and has been deployed on in-water searches for missing people by both Hampshire police and by neighbouring police forces. The team is also accredited with the Department for the Environment, Food and Rural Affairs (DEFRA) to be available for national flooding emergencies. Additionally, all members of the wider operational team are trained in riverbank searches with their first deployment having been in Romsey in 2014 along the River Test.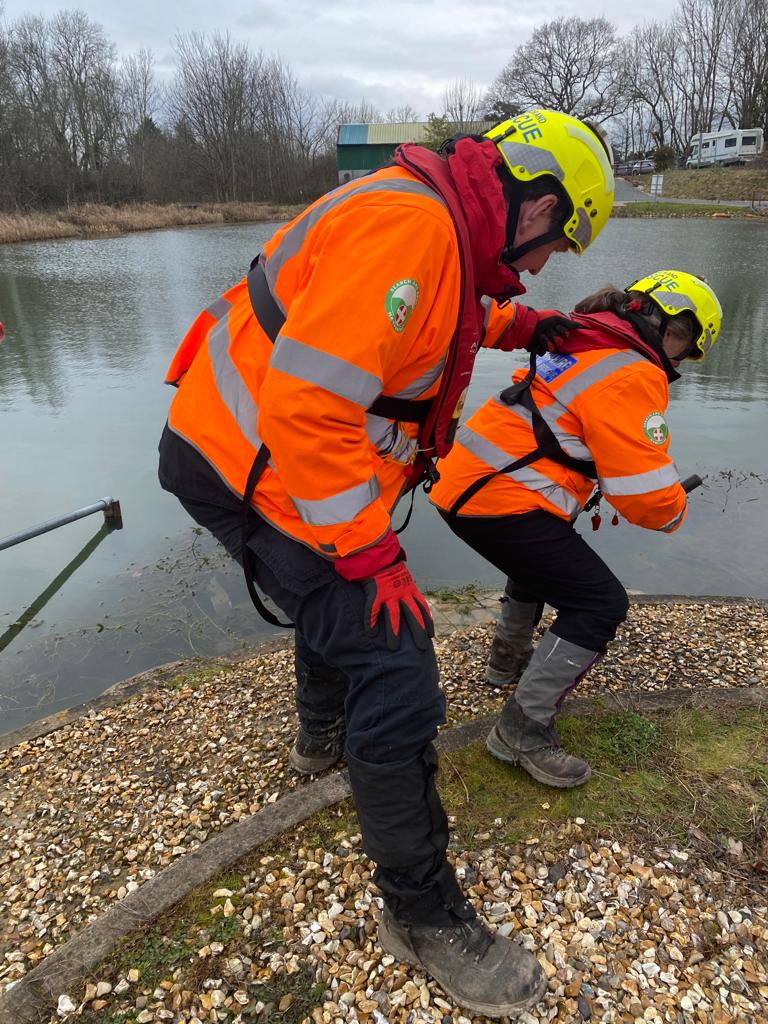 Medical team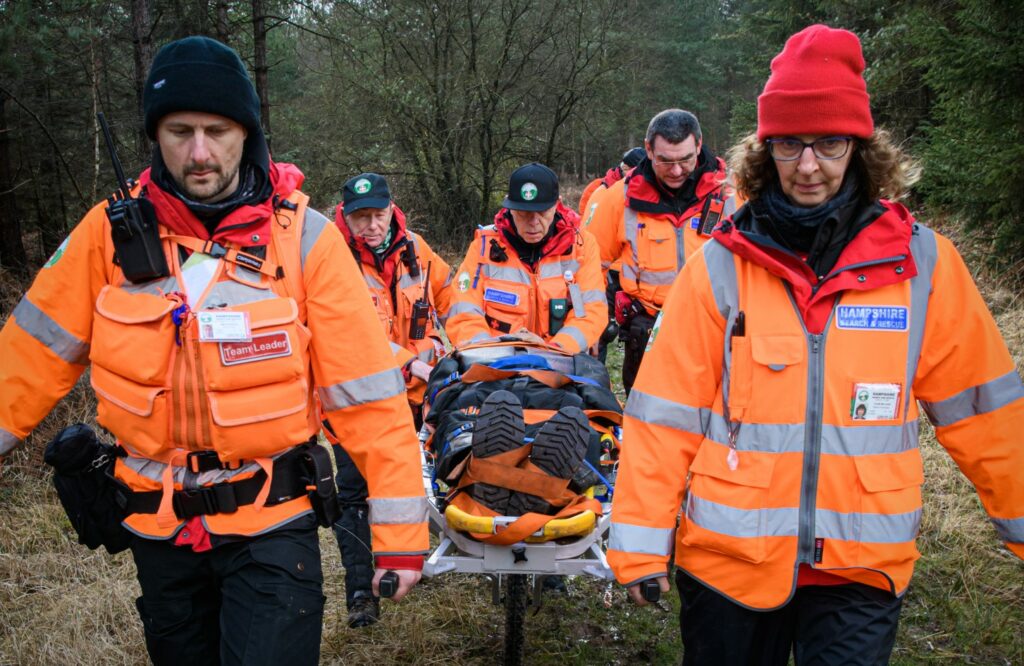 All HANTSAR operational members are trained in basic outdoor first aid. In addition to this, over the years, a specialist medical team has developed. In 2022 HANTSAR had 13 operational members with advance medical qualifications (FREC 3 or above). This enables the team to deliver advanced lifesaving first aid in the field prior to the arrival of the ambulance service. The team also trains regularly in extraction and evacuation of casualties.
Drone team
HANTSAR has five drones capable of rapidly searching open areas and hedge lines. These are a valuable resource and can save hours of foot searching. HANTSAR's drone team has also been used to support Hampshire Fire and Rescue Service in giving an overview at major fires so that hot spots can be identified quickly.
Rope
A rope team is being formed (2023) to develop the team's ability to rescue and recover from steep slopes and the like.
Joint working
The team works regularly and closely with Hampshire Search and Rescue Dogs (formerly part of Lowland Dogs Southern).
We also regularly train with other teams to make and maintain relationships and learn from others. One of the first of these joint agency exercises was in autumn 2009 when team members joined a Dartmoor Rescue Group training weekend with other ALSAR, Mountain Rescue (MR) and Search and Rescue Dog Association (SARDA) teams.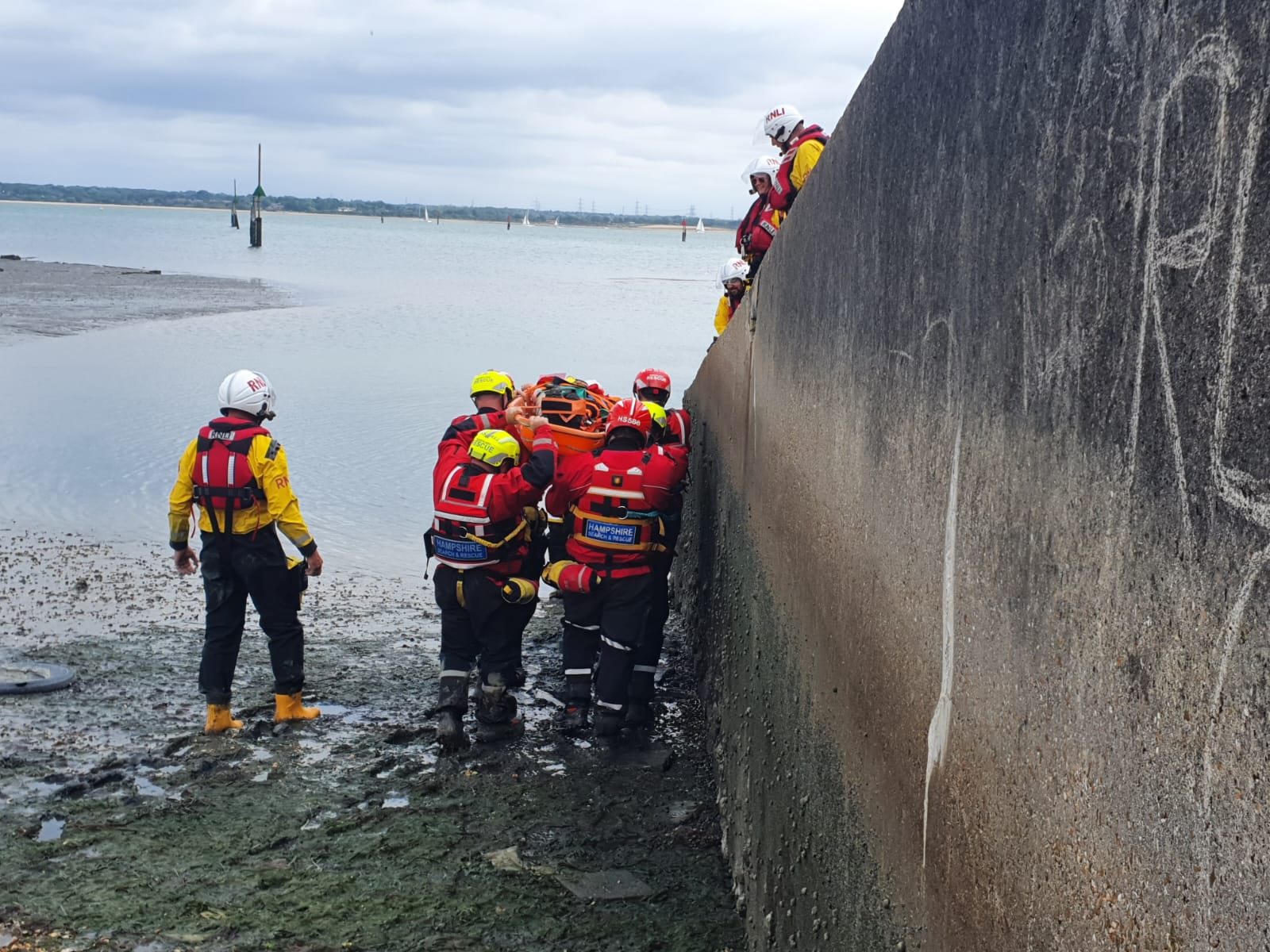 In 2017, in conjunction with Hampshire Search and Rescue Dogs, HANTSAR trained 20 Hampshire Special Constables in the necessary skills required to be able to be deployed alongside other LR Search Technicians in missing person searches. See Hampshire's Specials learn search and rescue techniques – Emergency Services Times.
Vehicles
The organisation has its own fully equipped Incident Control Unit (ICU) vehicle and a four-wheeled drive support vehicle. The current vehicle is the fourth ICU the team has owned.
The first ICU was an old Renault van, a hand-me-down from another team, which had received it as a hand-me-down themselves. HANTSAR also had a converted single deck bus donated by First Bus which was used for transporting kit and team welfare. Half the seats had been left in it and the back of it was in the process of being fitted out as a kitchen. Unfortunately, it failed an MOT and had a blown head gasket, too expensive to be worth repair, so went to the scrapyard.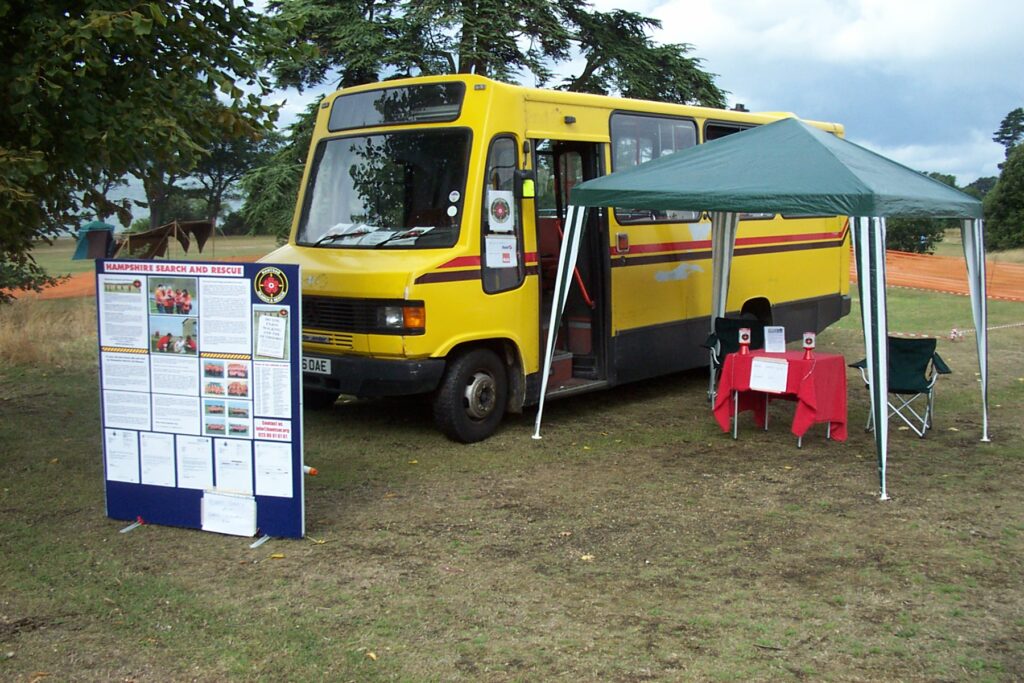 The second ICU was a brand-new Iveco, funded partly by a National Lottery grant and fitted out by a local company based in Chickenhall Lane, Eastleigh. Later in 2010 the team purchased a Land Rover from Calder Valley Mountain Rescue in Yorkshire. It was old but ran well although it was a V8 3.5 litre petrol engine so somewhat thirsty. This vehicle eventually ended up with WIGHTSAR where it was in use for several years before being scrapped. HANTSAR purchased a second Land Rover that year.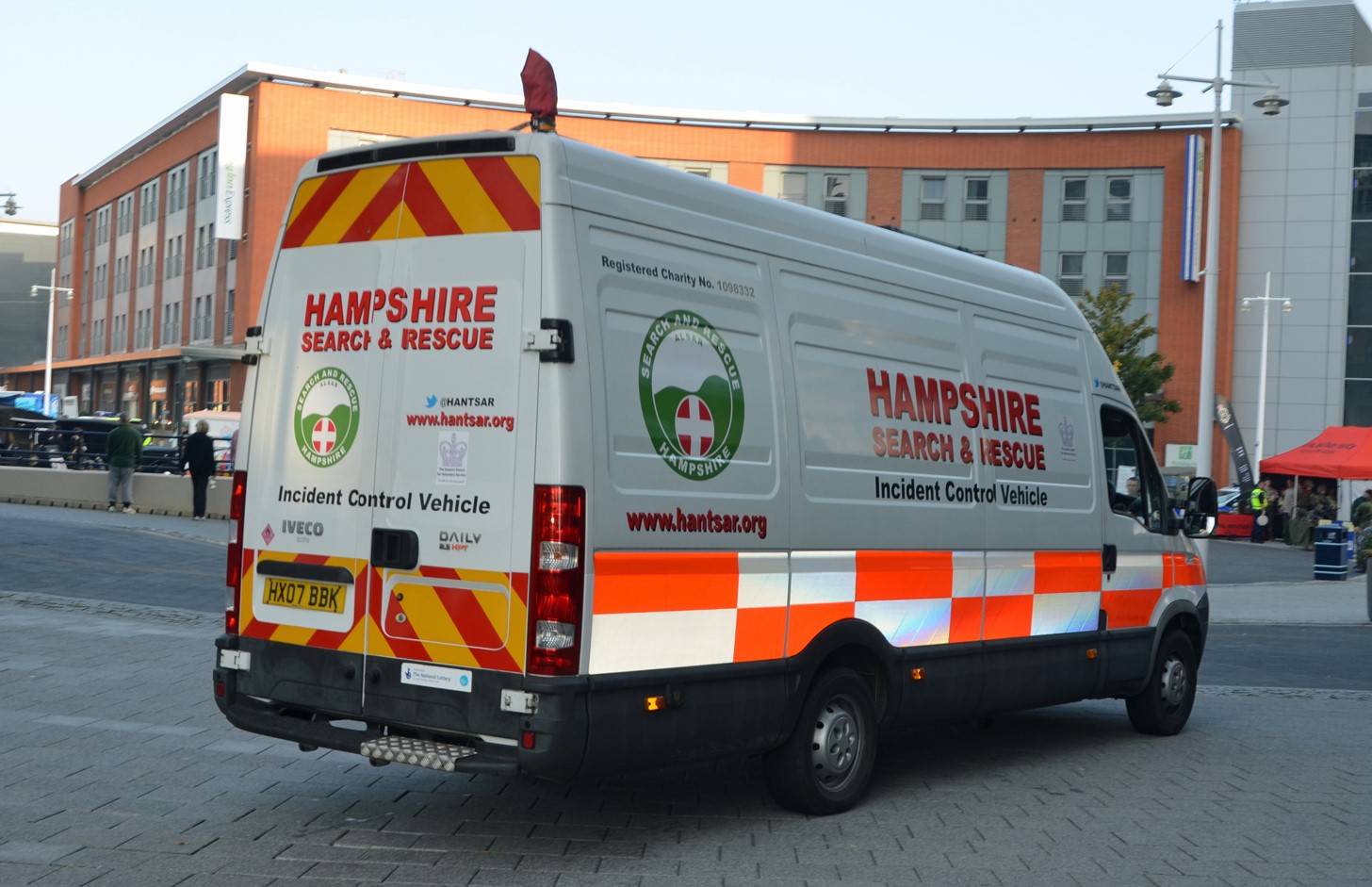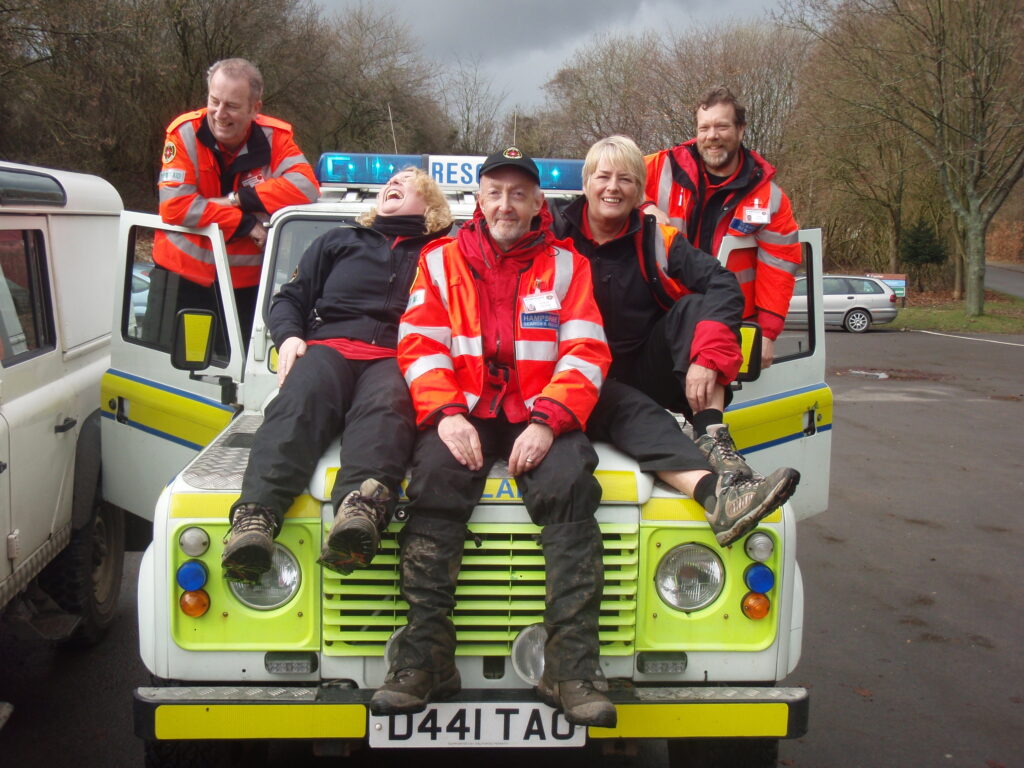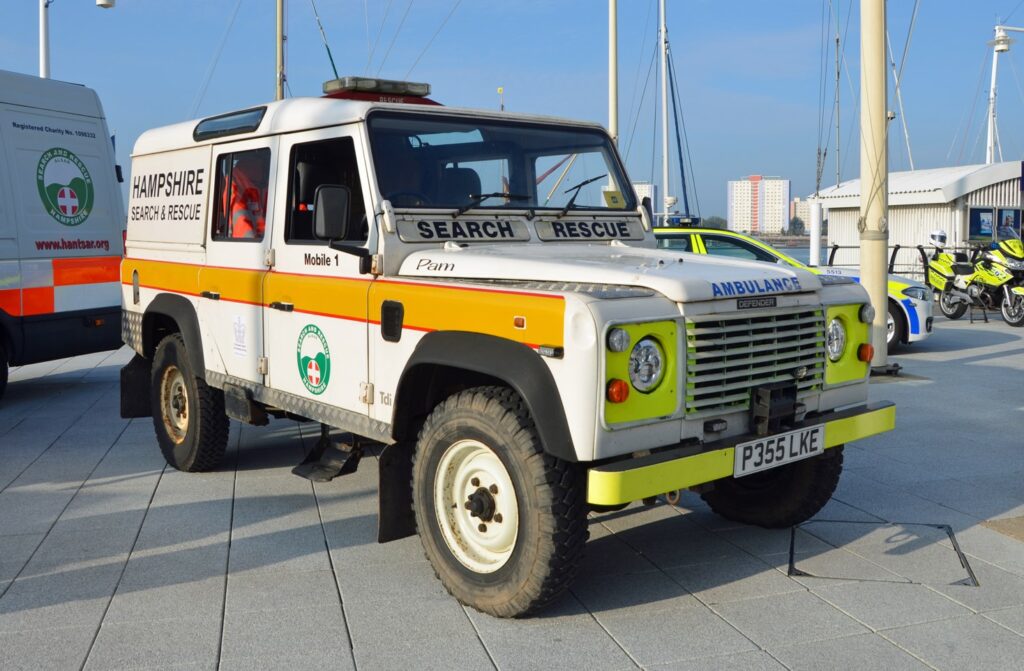 The third ICU was completed and launched in 2015 at a PR event at Netley police college, attended by the Hampshire Police and Crime Commissioner, Simon Hayes. This time the team did all the fit-out work in the van themselves. This article in the Emergency Services Times from June 2015 explains: From police mobile camera van to SAR control in 280 hours – Emergency Services Times.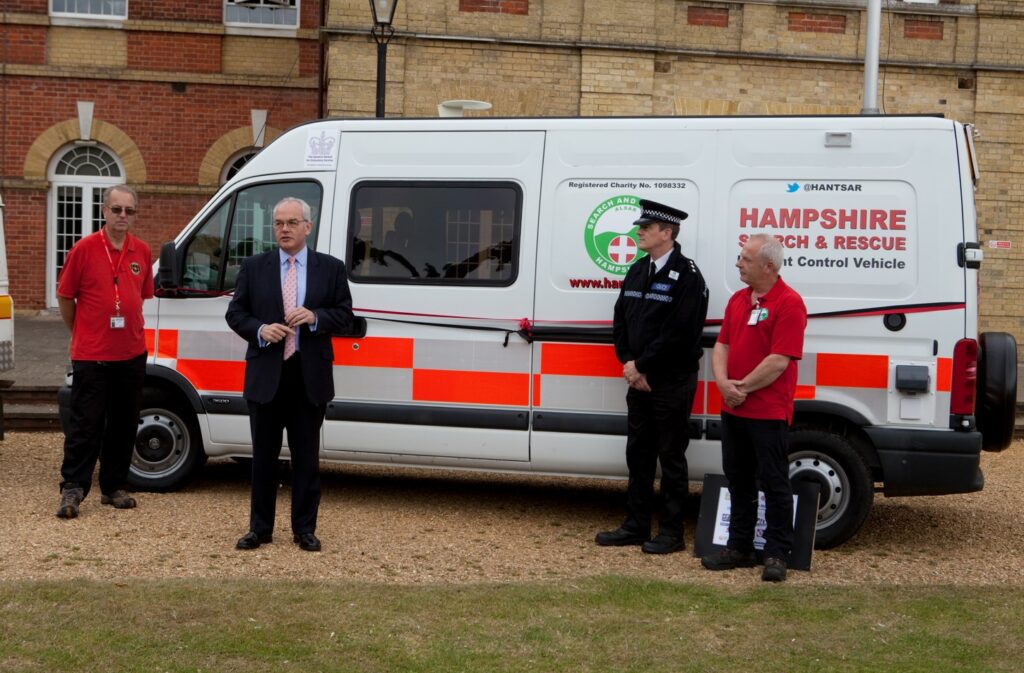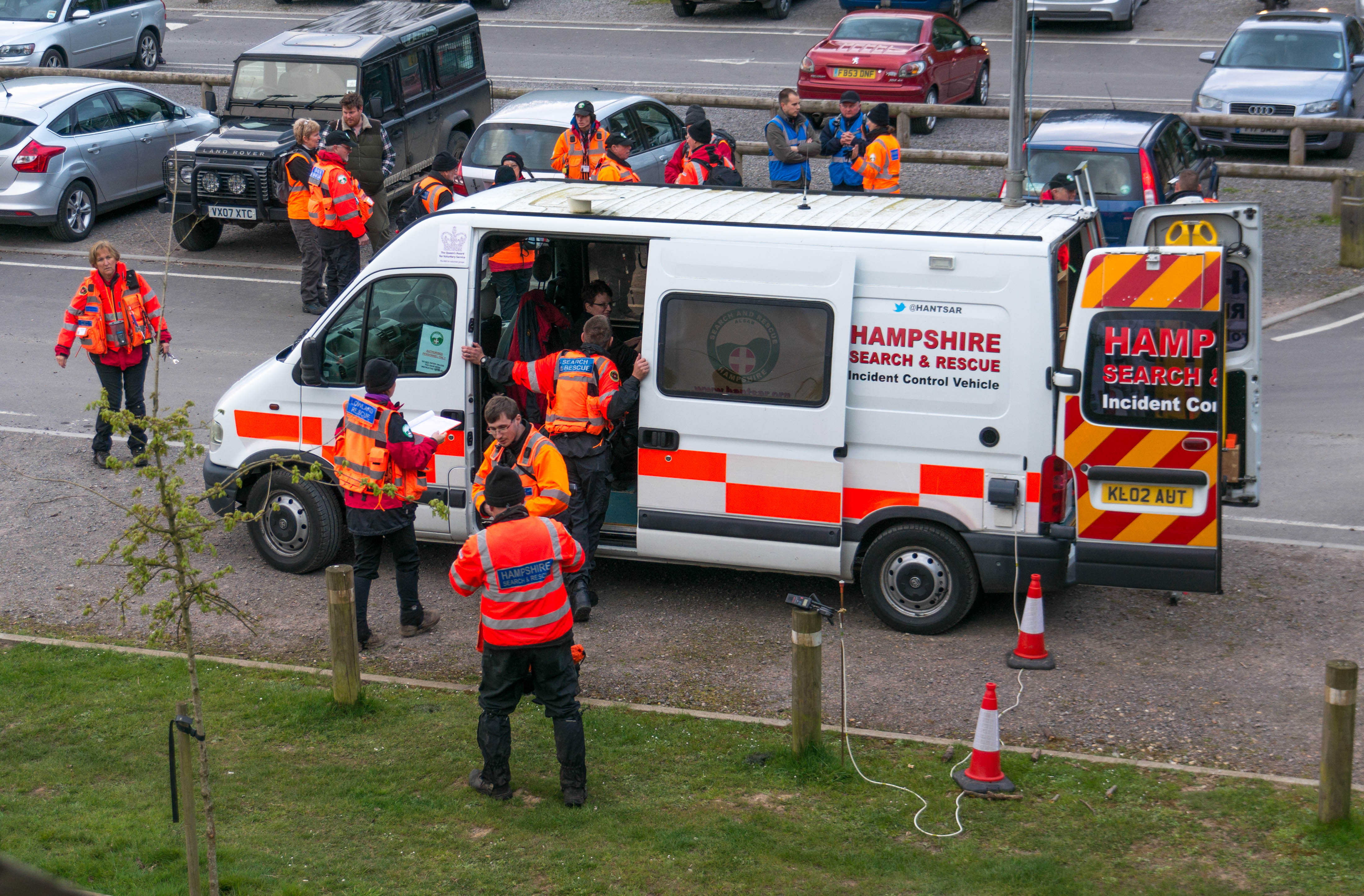 The team's Land Rover was again replaced in 2017 when the previous one became too expensive to repair. Shortly afterwards a trailer was purchased to carry the water team's kit.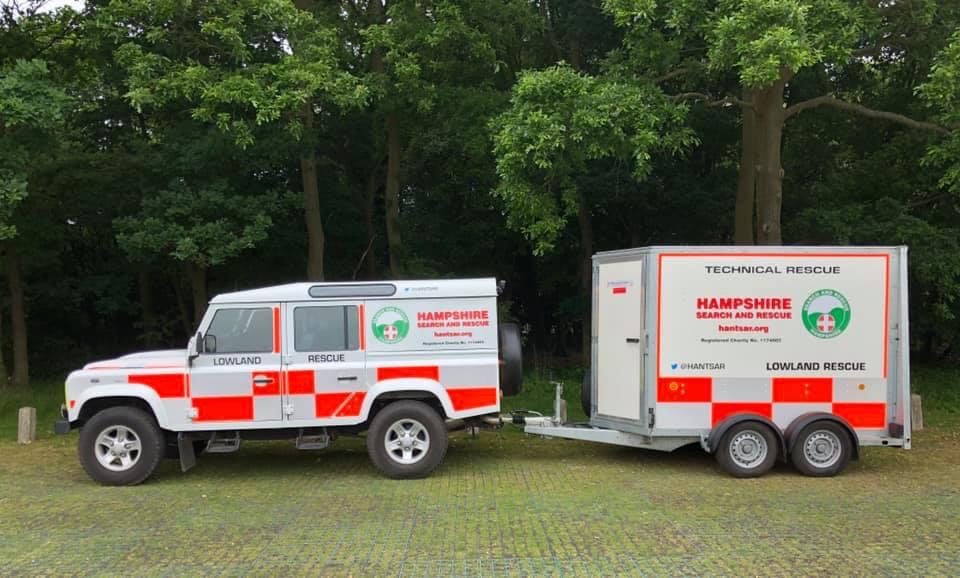 The current ICU, a Fiat Ducato conversion, was completed in 2021. Again, the team did the fit-out work. The vehicle contains everything needed to run a missing person search – large screen computers with search management software and mapping, a printer, a radio communications system, a generator, medical kit and other important items.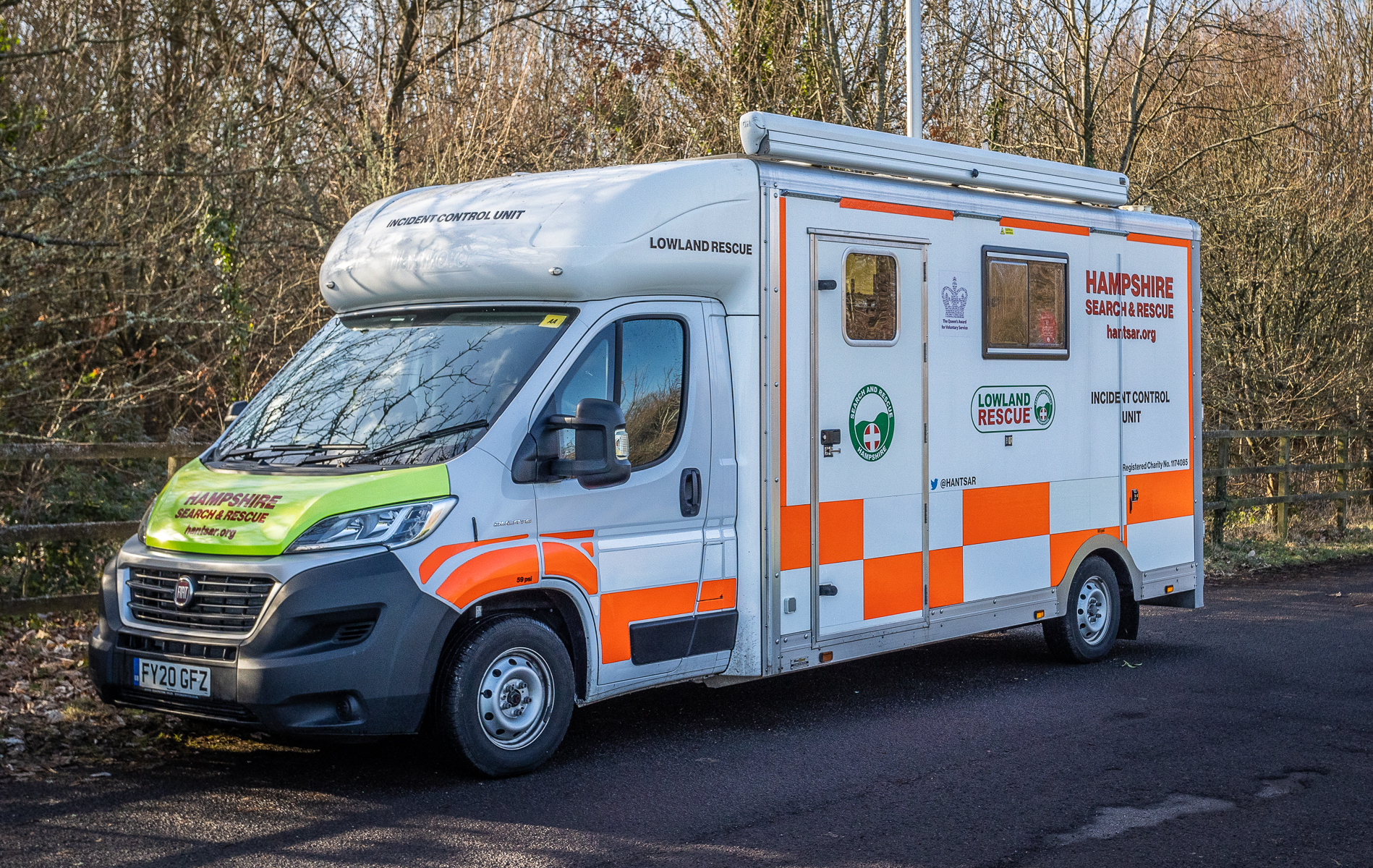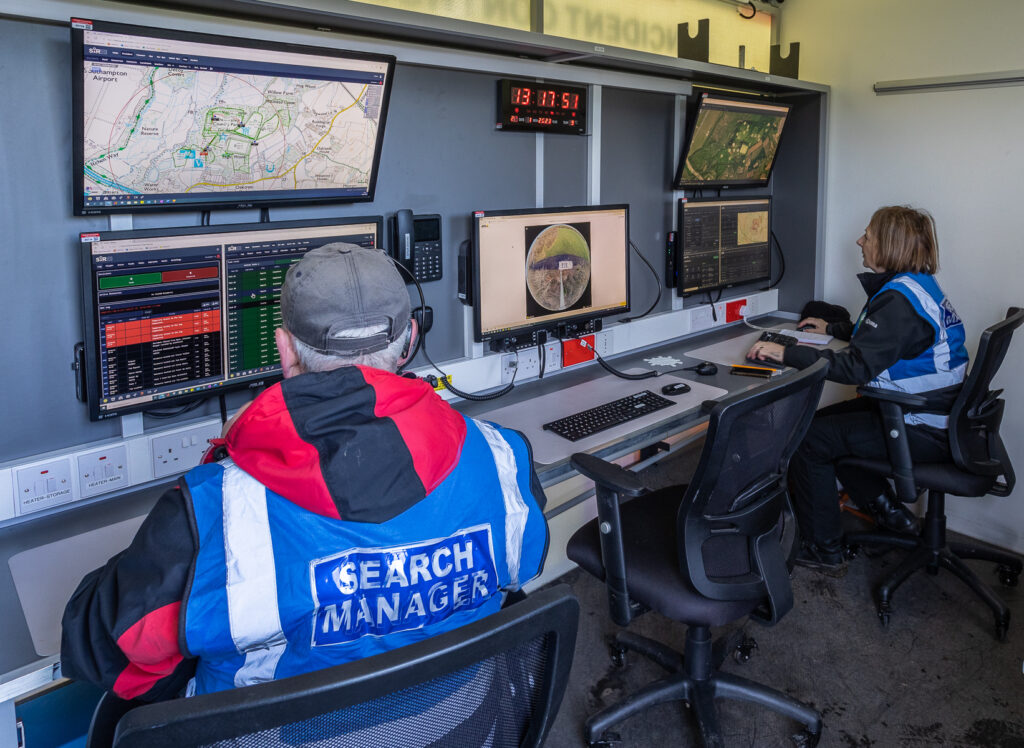 Team vehicles were originally parked in Persimmons grounds in Chickenhall Lane at Eastleigh with the keys held in the gate house. This was not secure enough and so the second ICU was moved to Ready Steady Store at Eastleigh. The big problem there was that all the removeable kit had to be wheeled to and from a storage unit on the third floor every time the van was taken out. This took a long time and added to the time that drivers were out for.
In early 2010, whilst parked in the Ready Steady Store yard, the catalytic converter was stolen, and the police invited HANTSAR to store their vehicles and kit at the police training college at Netley.
Vehicles and equipment have been stored at Netley ever since, although since 2012 the team has rented a small office space near Eastleigh where non-operational kit can be stored.
The team is currently (2023) on the look-out for a permanent base in a more central location and anticipates that this will soon become a reality.
Fundraising and events
HANTSAR relies on donations from the public, participation at local community events, partnerships with businesses and occasional grants to fund its operations. See Waitrose helps out search and rescue team with donation | Basingstoke Gazette for an example of a local supermarket supporting the team.
HANTSAR can provide first aid cover and marshals and stewards for events such as running races, carnivals and firework displays. The team regularly provides marshals for the Eastleigh 10k each March and the New Forest Marathon in the autumn.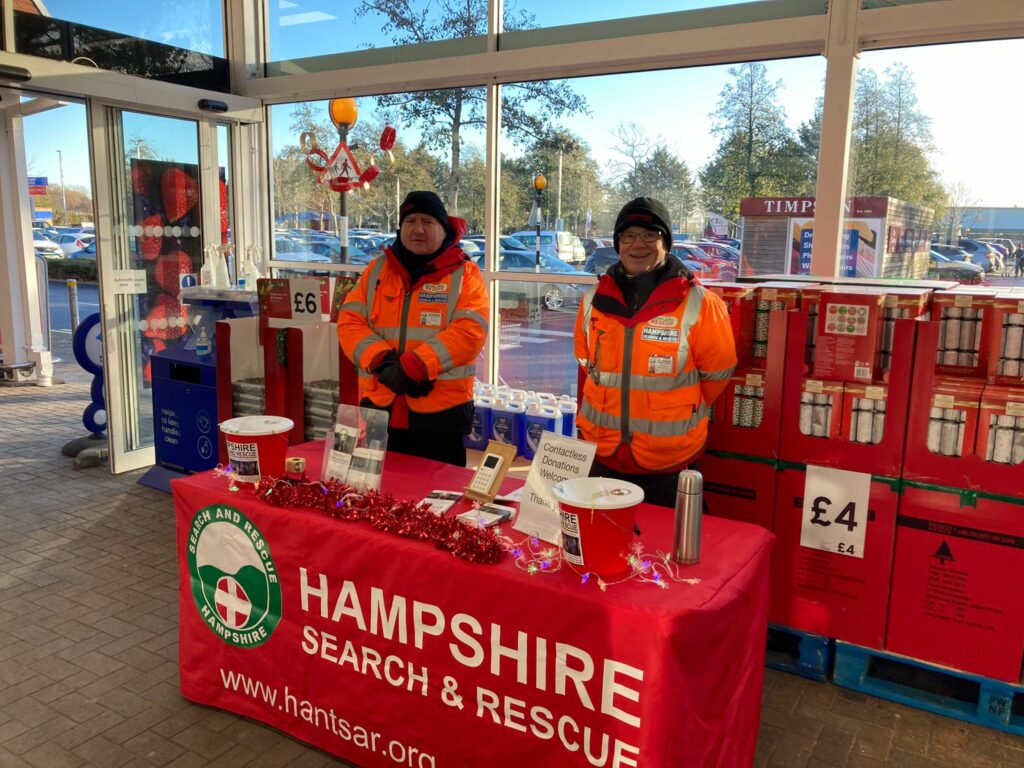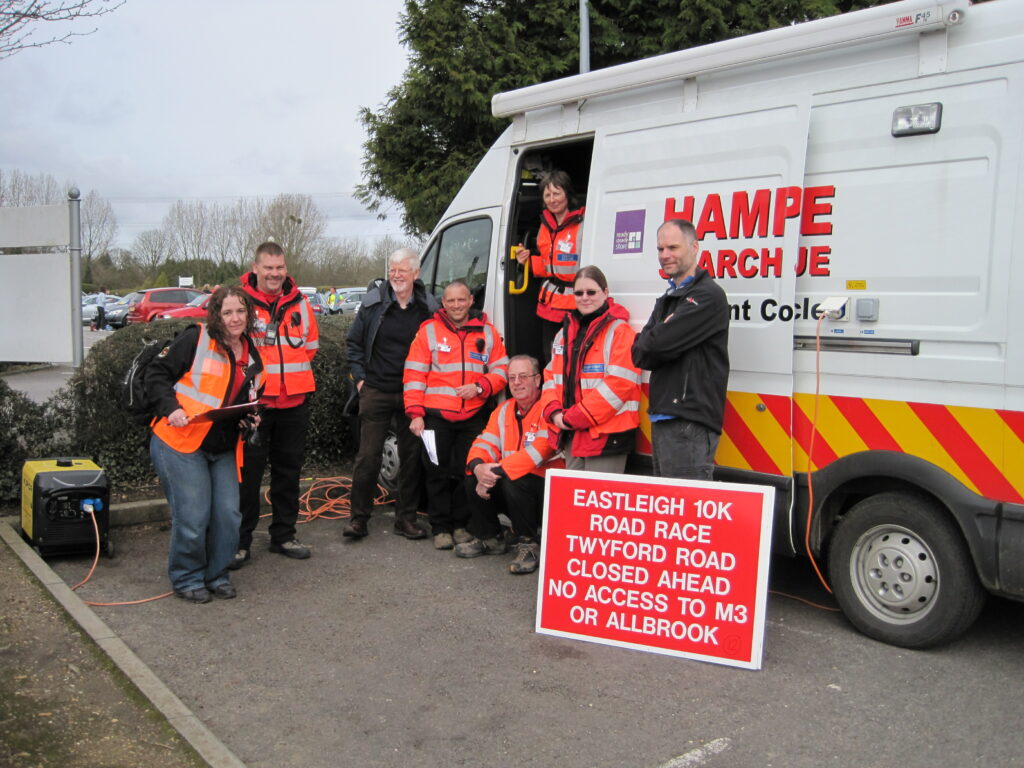 In 2020 the team was lucky enough to be awarded government funding towards a new rescue boat: List of Rescue Boat Fund winners 2019 to 2020 – GOV.UK (publishing.service.gov.uk).
Recognition and awards
HANTSAR received the Queen's Award for Voluntary Service in 2011 and was presented with the award by the Lord Lieutenant of Hampshire, Dame Mary Fagan, at an event in Crosfield Hall, Romsey on 3 September that year.
In June 2021, the team was presented with a Certificate of Congratulations by Olivia Pinkney, Chief Constable Hampshire Constabulary, for its search and rescue work in Hampshire.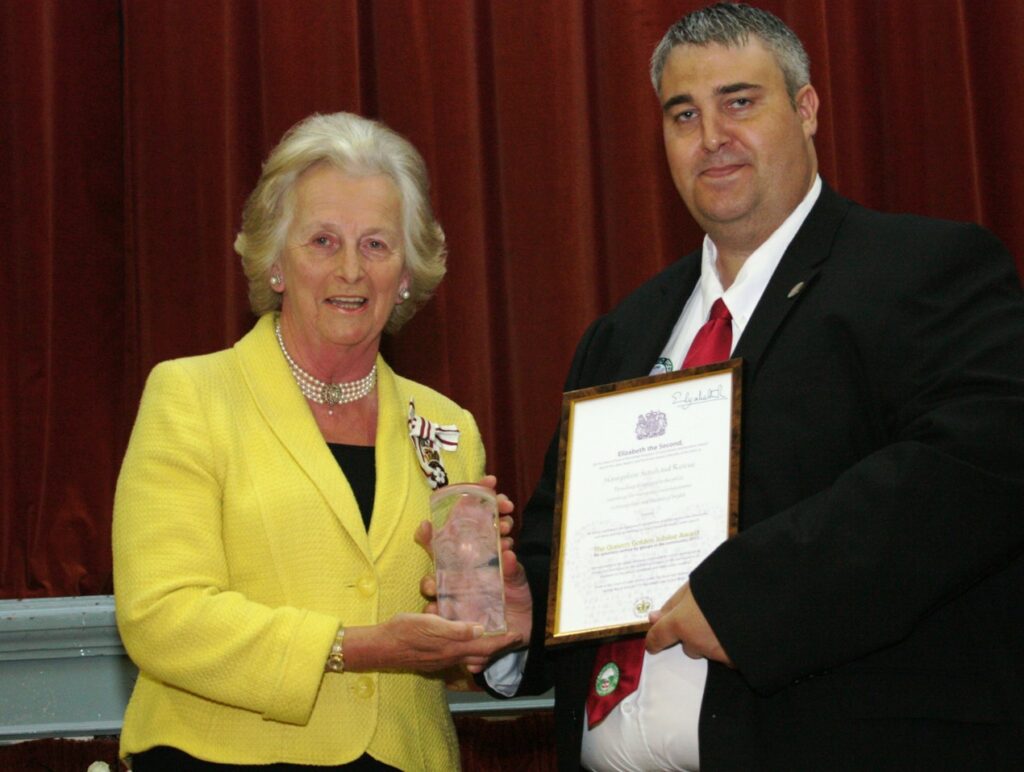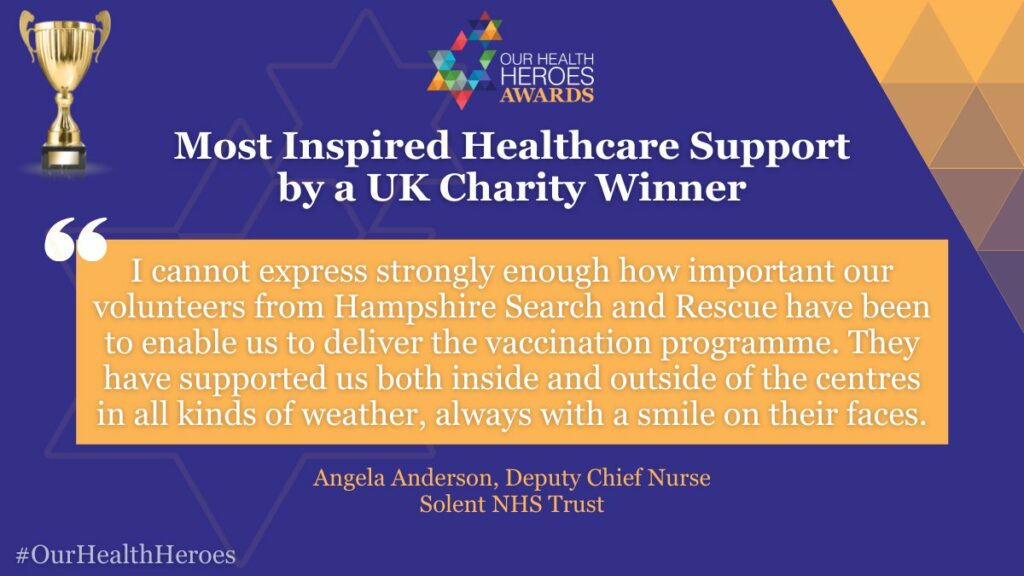 In common with their sister Lowland Rescue teams, certain qualifying members were honoured to be awarded the Queen's Platinum Jubilee Medal in 2022, the medals being presented at a ceremony at the police training college at Netley in July 2022 by the Hon. Hugo Cubitt DL.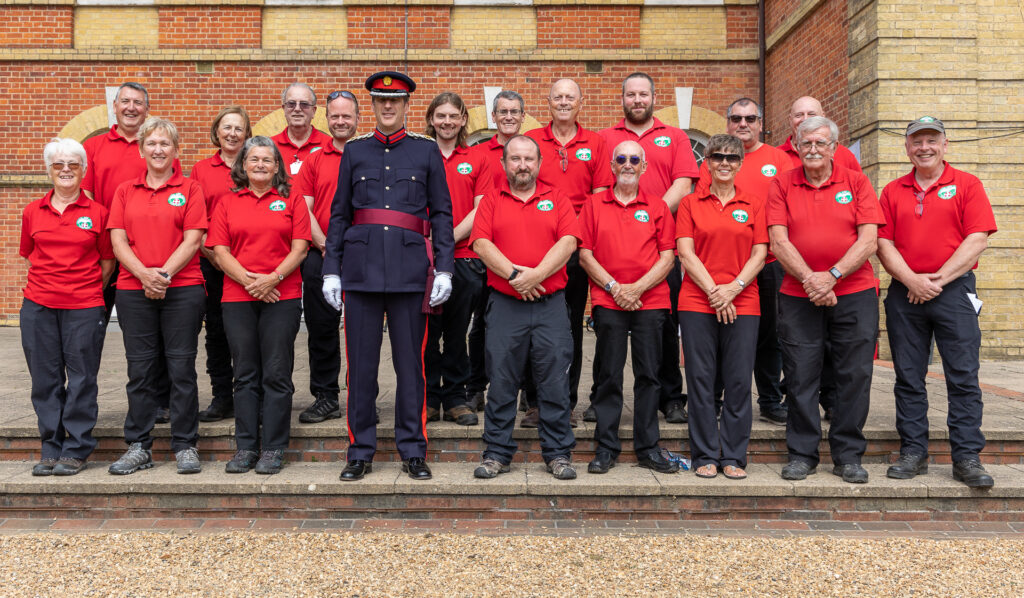 On Friday 31st March 2023 the team was delighted to win the Community Volunteer of the Year award at the Police and Crime Commissioner's Awards.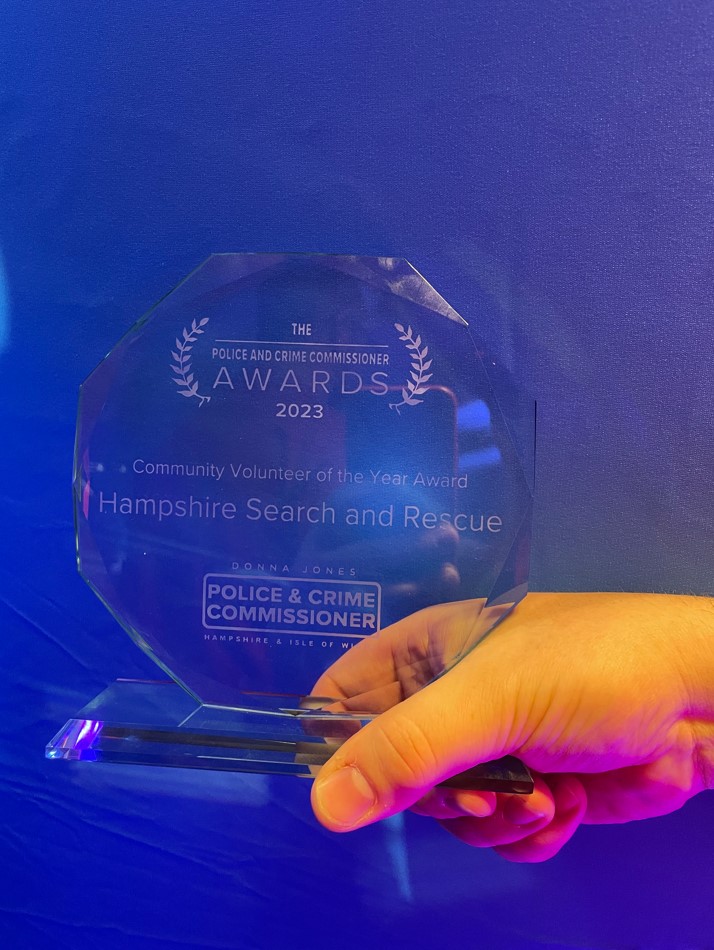 Links to other selected news articles featuring the team
2010 Winchester Round Table/Hampshire Chronicle Cash for Causes donation Search and Rescue latest to get charity donation | Hampshire Chronicle
June 2015 Official launch of our third control vehicle New vehicle for search missions | Daily Echo
June 2021 Reporting on a search we took part in Dozens of search and rescue specialists scrambled to find missing man in Hilsea in major operation | The News (portsmouth.co.uk)
Report of a search in 2021. Sadly, this person has not yet been located. Charlie Knight missing: Search and rescue at Newtown Forest | Basingstoke Gazette
June 2022 Visit by local MP Suella Meets Local Heroes from Hampshire Search and Rescue | Suella Braverman
September 2022 Visit by Flick Drummond MP for West Meon to our Incident Control Unit. (4) Facebook
December 2022 Reporting on a search Basingstoke woman missing with her black Labrador is found | Basingstoke Gazette
900th callout in 2022 Hampshire Search and Rescue responds to 900th callout on New Year's Day | Basingstoke Gazette