Hampshire Search and Rescue start their 20th year of service
to the Hampshire community.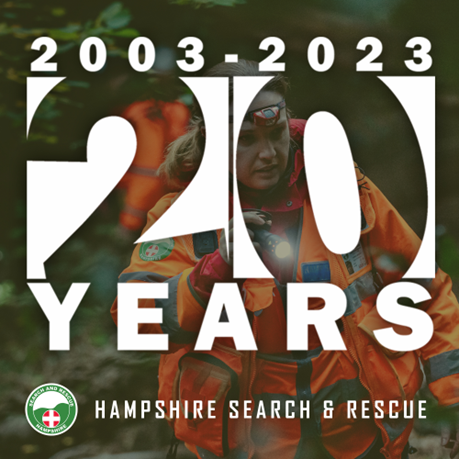 Over that time, we have completed close to 1000 missing person searches for Hampshire police as well as supporting Portsmouth City council with PPE deliveries, Portsmouth International Ports with COVID testing for freight drivers to the Continent and Solent NHS trust with vaccination support.
The team has grown to around 125 members with 85 of these being Operational and on call 24/7 to support missing person search work in Hampshire and supporting other Lowland Rescue teams in adjacent counties.
During this 20th year, the team have a number of events and projects planned to highlight their work and raise essential funds. Follow us to find out what is happening and how you can help the team support their community for another 20 years.
---
In January we launched our £20K for 20 years project to raise funds for a rapid deployment vehicle which will support the north of the county with quicker access to medical equipment. There will be lots more about this on our social media over the rest of the year. We also changed our logo on all our channels to remind us that this is a significant year for HANTSAR with lots of things planned throughout the year.
In February, after a lot of research, we are planning to publish our page that outlines the history of HANTSAR's first 20 years, looking back at members, vehicles and kit. We are also launching an 'About Us' document that describes more about the work we do with some great pictures which will be available to download from our website & social media channels.
We will be adding new events and projects each month but some advance notice of one that we are really looking forward to. We will at the Powder monkey beer and fun day on the 13th of August in Gosport. Powder Monkey Brewing Co More details nearer the time but a date for your diary.
---