Ruth Taylor receives Certificate of Appreciation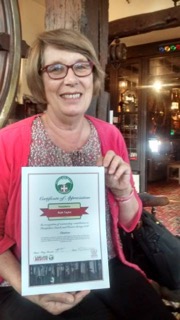 Congratulations to Ruth Taylor, HANTSAR's Grants Officer, who received HANTSAR's first 'Certificate of Appreciation'. Ruth's hard work resulted in HANTSAR receiving a very important grant from the ASDA Foundation to fund new digital radios.
The citation on the certificate states 'Ruth identified an opportunity to apply for a grant through the ASDA foundation for digital radios and pulled together a team to gather the technical detail needed. Through the many reviews and requests for additional information Ruth built the relationship with ASDA which finally lead to the successful grant award'.