HANTSAR is recruiting both Operational and Support Members
We are looking for volunteers who can give their time willingly and in a professional manner to promote the aims and objectives of the team. HANTSAR has members from many walks of life. We need both 'operational' and 'support' team members.
All of our operational members are on call 24/7 and are expected to attend as many callouts as possible around existing commitments. We are particularly interested in hearing from those available during 'office hours'.
Recruitment evenings for operational members are usually held in June and December. However, it is possible to attend one of our fitness assessment walks and become DBS cleared and join us as a support member prior to the recruitment evening.
Support members may join us at any time.
Our current joining process for Operational Members is below: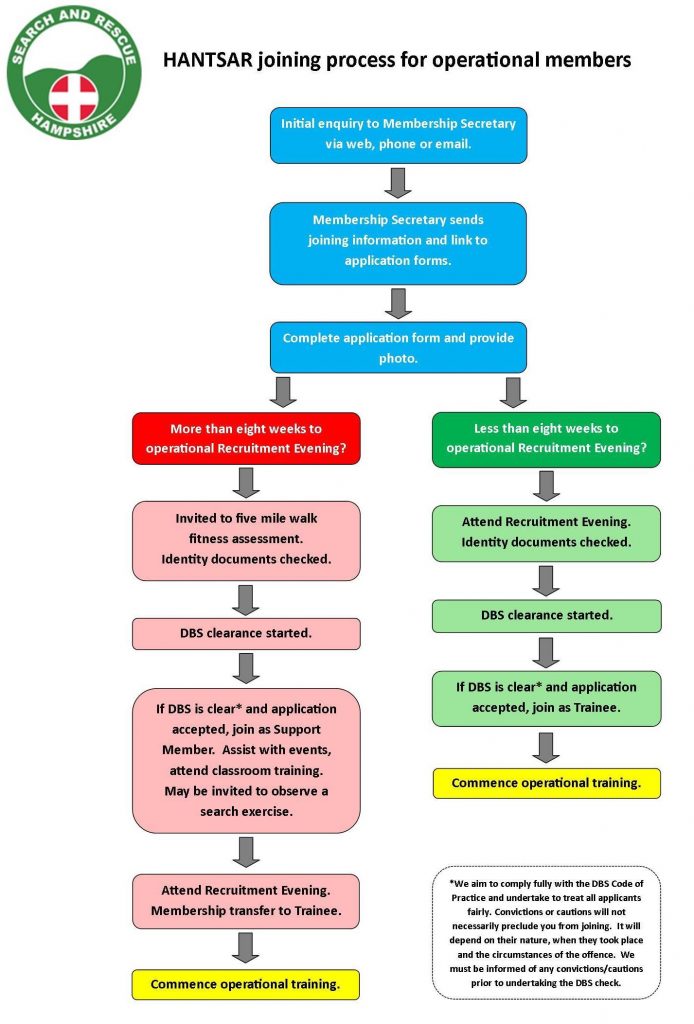 We regularly train on three Thursday evenings and one Sunday morning a month.
All of our volunteers are subject to an Enhanced DBS check, references and periodic further police checks as required.
Once operational, members are provided with uniform such as jackets but most personal kit needs to be provided by members themselves. In addition a modest yearly subscription to the team is required (currently £15 a year).
If you have any questions please contact the Membership Secretary.
We also have additional information here.
You can also call us on 03303309506